Arlen Specter
(Arlen Specter)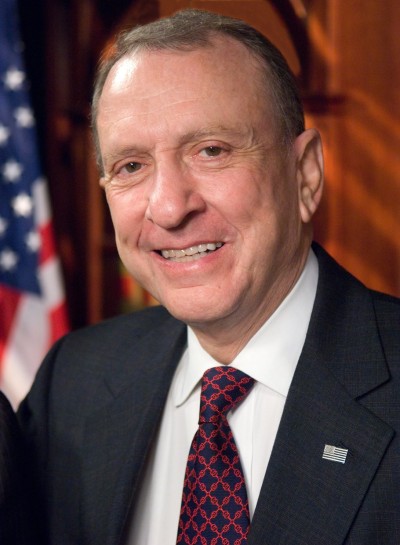 Arlen Specter (February 12, 1930 – October 14, 2012) was a United States Senator from Pennsylvania. Specter was a Democrat from 1951 to 1965, then a Republican from 1965 until 2009, when he switched back to the Democratic Party. First elected in 1980, he represented his state for 30 years in the Senate. Specter was a moderate who usually stayed in the political center.  Specter was born in Wichita, Kansas, to emigrant Russian Jewish parents. He graduated from the University of Pennsylvania and served with the United States Air Force during the Korean War. Specter later graduated from Yale Law School and opened a law firm with Marvin Katz, who would later become a federal judge. Specter served as assistant counsel for the Warren Commission investigating the assassination of John F. Kennedy and helped devise the "single bullet theory". In 1965, Specter was elected District Attorney of Philadelphia, a position that he would hold until 1973.
On April 28, 2009, Specter announced that, after 44 years as an elected Republican, he was switching membership to the Democratic Party. On May 18, 2010, Specter was defeated in the Democratic primary by Joe Sestak, who then lost to Pat Toomey in the general election. Toomey succeeded Specter on January 3, 2011.
During the fall of 2011, Specter was an adjunct professor at the University of Pennsylvania Law School, where he taught a course on the relationship between Congress and the U.S. Supreme Court, focusing on separation of powers and the confirmation process. For this course the National Jurist named him as one of the "23 professors to take before you die". Diagnosed with Hodgkin's lymphoma in early 2005, he continued his work in the Senate while undergoing chemotherapy. He later died of complications of non-Hodgkin's lymphoma on October 14, 2012.
Born
February, 12, 1930
USA
Witchita, Kansas
Died
October, 14, 2012
USA
Philadelphia, Pennsylvania
Cemetery
Shalom Memorial Park
Huntington Valley, Pennsylvania
USA
16768 profile views