Archie Moore
(Archibald Lee Wright)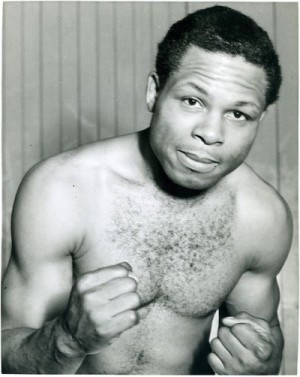 Archie Moore
He turned professional in 1938 and boxed all but one of his 12 bouts that year in San Diego. Moore had eight bouts in 1939, going 5–2 during that span, with one "no contest." He lost to former Middleweight Champion and future Hall of Famer Teddy Yarosz during that time, and his no-contest was against Jack Coggins, in eight rounds. In 1940, Moore made a tour of Australia and fought in Melbourne, Tasmania, Adelaide and Sydney. He won all of his seven bouts there, including six by knockout. Upon returning to the United States, he defeated Pancho Ramirez by a knockout in five, but lost to Shorty Hogue on a six-round decision.
Moore had four fights in 1941, during which he went 2–1–1, with the draw against Eddie Booker. By then, however, he had suffered through several stomach ulcers, with the resulting operations, and he announced his retirement from boxing.  His retirement was brief, however, and by 1942 he was back in the ring. He won his first six bouts that year, including a second round knockout of Hogue in a rematch, and a ten round decision over Jack Chase. He met Booker in a rematch, and reached the same conclusion as their first meeting had: another 10 round draw.  In 1943, Moore fought seven bouts, winning five and losing two. He won and then lost the California State Middleweight title against Chase, both by 15 round decisions, and beat Chase again in his last bout of that year, in a ten round decision. He also lost a decision to Aaron Wade that year.
In 1944, he had nine bouts, going 7–2. His last bout that year marked his debut on the Atlantic Coast, and the level of his opposition began to improve. He beat Jimmy Hayden by a knockout in five, lost to future Hall of Famer Charlie Burley by a decision, and to Booker by a knockout in eight.  He won his first eight bouts of 1945, impressing Atlantic coast boxing experts and earning a fight with future IBHOF enshrinee Jimmy Bivins, who defeated Moore by a knockout in six at Cleveland. He returned to the Eastern Seaboard to fight five more times before that year was over. He met, among others, future IBHOF enshrinee Holman Williams during that span, losing a ten round decision, and knocking him out in eleven in the rematch.
By 1946, Moore had moved to the light heavyweight division and he went 5–2–1 that year, beating contender Curtis Sheppard, but losing to future World Heavyweight Champion and Hall of Famer Ezzard Charles by a decision in ten, and drawing with old nemesis Chase. By then, Moore began complaining publicly that, according to him, none of boxing's world champions would risk their titles fighting him.  1947 was essentially a year of rematches for Moore. He went 7–1 that year, his one loss being to Charles. He beat Chase by a knockout in nine, Sheppard by a decision in ten and Bivins by a knockout in nine. He also defeated Burt Lytell, by a decision in ten.  He fought a solid 14 fights in 1948, losing again to Charles by a knockout in nine, losing to Leonard Morrow by a knockout in the first, to Henry Hall by a decision in ten and to Lloyd Gibson by a disqualification in four. But he also beat Ted Lowry, by a decision in ten, and Hall in a rematch, also by decision.
1949 was also a good year for Moore: He had 13 bouts that year, going 12–1. He defeated the Alabama Kid twice; by knockout in four and by knockout in three, Bob Satterfield by a knockout in three, Bivins by a knockout in eight, future World Light Heavyweight Champion and IBHOF inductee Harold Johnson by a decision, Bob Sikes by a knockout in three and Phil Muscato by a decision. He lost to Clinton Bacon by a disqualification in six.  By Moore's standards, 1950 was a vacation year for him: he only had two fights, winning both, including a 10 round decision in a rematch with Lydell.  In 1951, Moore boxed 18 times, winning 16, losing one, and drawing one. He went on an Argentinian tour, fighting seven times there, winning six and drawing one. In between those seven fights, he found time for a trip to Montevideo, Uruguay, where he defeated Vicente Quiroz by a knockout in six. He knocked out Bivins in nine and split two decisions with Johnson.
1952 was one of the most important years in Moore's life. After beating Johnson, heavyweight contenders Jimmy Slade, Bob Dunlap, and Clarence Henry and light heavyweight Clinton Bacon (knocked out in four in a rematch), Moore was finally given an opportunity at age thirty-six to fight for the title of World Light Heavyweight Champion against future IBHOF honoree Joey Maxim.  Maxim had just defeated the great Sugar Ray Robinson by a technical knockout in 14 rounds, forcing Robinson to quit in his corner due to heat exhaustion. Against Maxim, Moore consistently landed powerful right hands, hurting him several times en route to a fifteen-round decision. After sixteen long years, he had finally achieved his dream.
He was far from done, however. The next year, Moore won all nine of his bouts, including a 10 round non title win against then fringe heavyweight contender Nino Valdez of Cuba and a 15 round decision over Maxim in a rematch to retain the belt. He made two more bouts in Argentina before the end of the year.  In 1954, he had only four fights, retaining the title in a third fight with Maxim, who once again went the 15 round distance, and versus Johnson, who he knocked out in 14. He also beat highly ranked heavyweight Bob Baker.  In 1955, Moore again beat Valdez, who by that time was the no. 1 heavyweight contender, and defended against Bobo Olson, the World Middleweight Champion and future Hall of Famer who was coming off a decision victory over Joey Maxim, by a knockout in three.
On September 21, 1955, Moore went up in weight to face future Hall of Famer Rocky Marciano for Marciano's Heavyweight Championship. Moore briefly dropped Marciano in the second round (the second and last time Marciano had ever been knocked down), but Marciano recovered and knocked Moore down five times, knocking him out in the ninth to retain the belt. It was Marciano's sixth and last title defense before retiring in 1956.  In 1956, Moore fought mostly as a heavyweight but did retain his Light Heavyweight title with a ten round knockout over Yolande Pompey in London. He won 11 bouts in a row before challenging again for the World Heavyweight Championship. The title was left vacant by Marciano, but Moore lost to Floyd Patterson by a knockout in five (Patterson, yet another future Hall of Famer, himself made history that night, becoming, at the age of 21, the youngest World Heavyweight Champion yet, a record he would hold until 1986).
Moore won all six of his bouts during 1957. Among those wins was an easy 10-round decision over heavyweight contender Hans Kalbfell in Germany, a knockout in 7 rounds over highly ranked Tony Anthony to retain the light heavyweight title, a one-sided 10-round decision over light heavyweight contender Eddie Cotton in a non-title bout and a 4th round knockout of future top ten heavyweight contender Roger Rischer.  In 1958, Moore had 10 fights, going 9–0–1 during that span. His fight with Yvon Durelle in particular was of note: defending his world light heavyweight title in Montreal, he was felled three times in round one, and once again in round five, but then dropped Durelle in round 10 and won by a knockout in the 11th.
1959, his last full year as uncontested champion, was another rare low-profile year; in his two fights, he beat Sterling Davis by a knockout in three, and then Durelle again, also by a knockout in three, to once again retain his World Light Heavyweight title.  During 1960, Moore was stripped of his World Light Heavyweight title by the National Boxing Association (NBA), but continued to be recognized by most major boxing authorities including the New York State Athletic Commission and The Ring Magazine. Moore won three of his four bouts in 1960, one by decision against Buddy Turman in Dallas, Texas, his lone loss coming in a ten-round decision versus Giulio Rinaldi in Rome.  In 1961, he defeated Turman again by decision in Manila, Philippines before defending his Lineal World Light Heavyweight Championship for what would be the last time, beating Rinaldi by a 15 round decision to retain the belt. In his last fight that year, he once again ventured into the heavyweights, and met Pete Rademacher, a man who had made history earlier in his career by becoming the first man ever to challenge for a world title in his first professional bout (when he lost to Patterson by a knockout in six). Moore beat Rademacher by a knockout in nine.
In 1962, the remaining boxing commissions that had continued to back Moore as the World Light Heavyweight Champion withdrew their recognition. He campaigned exclusively as a heavyweight from then on, and beat Alejandro Lavorante by a knockout in 10 and Howard King by a knockout in one round in Tijuana. He then drew against future World Light Heavyweight Champion Willie Pastrano in a 10-round heavyweight contest. Interestingly enough, on the posters advertising that fight, Moore was billed as the "World Light Heavyweight Champion." The bout took place in California, which had not yet withdrawn recognition from Moore at the time the Moore-Pastrano fight was signed. By the time the bout took place, the California commission, like New York, Massachusetts, the EBU and Ring Magazine, had recognized Harold Johnson, who had beaten Doug Jones 16 days earlier, as the new Light Heavyweight Champion. Johnson had reigned as the NBA (WBA) Champion since February 7, 1961.
Then, in his last fight of note, Moore faced a young heavyweight out of Louisville named Cassius Clay (Muhammad Ali). Moore had been Clay's trainer for a time, but Clay became dissatisfied and left Moore because of Moore's attempts to change his style and his insistence that Clay do dishes and help clean gym floors.  In the days before the fight, Clay had rhymed that "Archie Moore…Must fall in four." Moore replied that he had perfected a new punch for the match: The Lip-Buttoner.  Nonetheless, as Clay predicted Moore was beaten by a knockout in four rounds. Moore is the only man to have faced both Rocky Marciano and Muhammad Ali.  After one more fight in 1963, a third round knockout win over Mike DiBiase in Phoenix, Moore announced his retirement from boxing, for good.
Despite retiring, Moore couldn't escape the limelight, and received numerous awards and dedications. In 1965, he was given the key to the city of San Diego, California. In 1970, he was named "Man of The Year" by Listen Magazine, and received the key to the city of Sandpoint, Ohio.  He was elected in 1985 to the St. Louis city Boxing Hall of Fame and he received the Rocky Marciano Memorial Award in the city of New York in 1988. In 1990, he became a member of the International Boxing Hall Of Fame in Canastota, being one of the original members of that institution.
At one point, the oldest boxer to win the World's Light Heavyweight Championship, he is believed to have been the only boxer who boxed professionally in the eras of Joe Louis, Rocky Marciano and Muhammad Ali. He is one of only a handful of boxers whose careers spanned four decades; his final record was an extraordinary 185 wins, 23 losses, 11 draws and 1 no contest, with 131 official knockouts.  However, at least three of Moore's record 131 knockouts came in less-than-competitive matches against pro wrestlers: "Professor" Roy Shire in 1956, Sterling Davis in 1959 and Mike DiBiase in 1963 (Moore's 131st and final knockout). All three matches are officially listed as third-round TKO stoppages. But even if one amends Moore's career numbers, he would still hold the record. The second-highest amount of knockouts in boxing history is 125, a total shared by light heavyweight Young Stribling and welterweight Billy Bird.
In 1960, Moore was chosen to play the role of the runaway slave Jim in Michael Curtiz's film adaptation of Mark Twain's The Adventures of Huckleberry Finn, opposite Eddie Hodges as Huck. Moore garnered positive reviews for his sympathetic portrayal of Jim, which some viewers still consider the best interpretation of this much-filmed role.  Moore did not choose to pursue a full-time career as an actor, but he did appear in 1960s films such as The Fortune Cookie and The Carpetbaggers and on television in episodes of Family Affair, Perry Mason, Wagon Train, The Reporter, Batman (episode 35) and the soap opera One Life to Live. He made a brief return to film in 1975, playing a chef in Breakheart Pass with Charles Bronson and had a cameo role as himself in the 1982 Jamaa Fanaka film Penitentiary II, along with Leon Isaac Kennedy and Mr. T.  Archie Moore died of heart failure in 1998, four days before his 82nd birthday. He was cremated and is interred in a niche at Cypress View Mausoleum and Crematory, in San Diego.
Born
December, 13, 1916
Benoit, Mississippi
Died
December, 09, 1998
San Diego, California
Cause of Death
Cemetery
Cypress View Mausoleum and Crematory
San Diego, California
17089 profile views