AP Carter
(Alvin Pleasant Carter)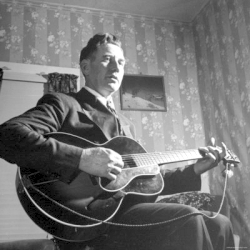 AP Carter
A.P. Carter is best known for forming the Carter Family band, which combined traditional Appalachian sounds with a unique guitar style and African American gospel influences.
A.P. Carter was born to Robert C. Carter and Mollie Arvelle Bays in Maces Springs, Virginia, an area in present-day Hiltons, Virginia, which is known as Poor Valley). A.P. was sometimes called "Doc."
On June 18, 1915, he married Sara Dougherty and they had three children: Gladys (Millard), Janette (Jett), and Joe. In 1927, he formed the Carter Family band together with his wife. They were joined by Sara's cousin, Maybelle, who was married to A.P.'s brother, Ezra Carter, and they together formed the first commercial rural country music group. Carter was known for traveling extensively throughout the country and collecting and blending songs, particularly from Appalachian musicians. Some of the songs became so closely identified with A. P. Carter that he has been popularly, but mistakenly, credited with writing them. For example, "Keep on the Sunny Side of Life" was published in 1901 with the words being credited to Ada Blenkhorn and the music credited to Howard Entwisle, and "The Meeting in the Air" has been published giving credit for music and words to I. G. Martin.
A.P. and Sara separated in 1932, in part as a result of Sara having an affair with A.P.'s cousin, due to A.P.'s long absences from home in search of new musical ideas. They divorced in 1939. The band remained together for several years afterwards, but broke up in 1943. While Maybelle and her daughters continued to tour as The Carter Family, A.P. left the music business to run a general store in Hiltons, Virginia.
A.P. Carter died in Kingsport, Tennessee, on November 7, 1960 at the age of 68. He was buried in the Mt. Vernon United Methodist Church cemetery in the Maces Springs area of Hiltons, Virginia.
While Maybelle and her daughters would carry on The Carter Family's musical tradition, A.P. Carter retired from music when Sara left the band in 1943. He returned to Poor Valley, where he ran a general store and lived off his music royalties for the rest of his days. He passed away on November 7, 1960, at the age of 68.
Born
December, 15, 1893
Maces Springs, Virginia
Died
November, 07, 1960
Maces Springs, Virginia
Cemetery
Mount Vernon United Methodist Church
Maces Springs, Virginia
17421 profile views