Anthony Anastasio
(Anthony Anastasio)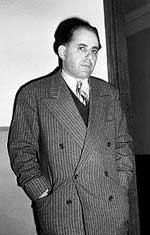 Anthony Anastasio
Born in 1906, Anthony "Tough Tony" Anastasio was an Italian-born American mobster who ruled the Brooklyn waterfront for several decades. Aligned with his brother, Albert Anastasia, who became the head of the Mangano crime family (later known as the Gambino crime family), Anastasio gained control of the longshoremen's union, though his power declined after his brother was gunned down. Anastasio died in 1963.
Antonio Anastasio was born in 1906 in Tropea, Italy. Sometime between 1917 and 1924, he entered the United States after deserting a ship where he had been working as a deckhand. Antonio chose to anglicize his name, and eventually became known as Anthony "Tough Tony" Anastasio.
Anastasio became a U.S. citizen, along with his brothers Joseph and Albert, who had jumped ship with him. While Anastasio worked on the docks of the Brooklyn waterfront, Albert Anastasia—who used a different spelling for his last name, a decision he may have made following his 1921 arrest for murder—became a hitman whose nickname was "The Executioner."
In time, Albert became a key figure in the organization known as Murder Inc., which undertook contract killings for the five crime families of New York. His brother's deadly pursuits helped Anastasio rise to power in the longshoremen's union during the 1930s. Anastasio eventually served as president of the International Longshoremen's Association Local 1814, and vice president of ILA International.
Anastasio's reputation was one that demonstrated how perception and fear could rule. In the midst of World War II, a rumor emerged that Anastasio had arranged for a fire on the S.S. Normandie, a French luxury liner. Though no real evidence existed to support the story, once mob boss Lucky Luciano received a transfer from Dannemora to a more pleasant prison, no other ships were destroyed.
While in his positions of power in the 1940s and 1950s, the docks Anastasio oversaw were a steady means of illegal profit for the mob. Sources of income included worker kickbacks, stolen merchandise and payoffs from shipping companies. As Albert took control of the Mangano crime family, which later became known as the Gambino crime family, Anastasio also saw an upswing in his own power.
In 1957, Albert was murdered at a barber shop in the Park Sheraton Hotel in New York City. Anastasio identified his brother's body. After his brother's execution, Anastasio's influence waned as Carlo Gambino took control of the crime family. However, Anastasio was allowed to keep his position at the docks.
Fear for his own life, perhaps combined with anger at his loss of power, prompted Anastasio to start meeting with the FBI. During one such encounter, FBI records document that Anastasio admitted Albert's death was deserved. Anastasio stated, "I ate from the same table as Albert and came from the same womb but I know he killed many men and he deserved to die."
The FBI was never able to use Anastasio as a full-fledged informant. A short time after beginning to talk with investigators, Anastasio died at Long Island Hospital in Brooklyn, New York, on March 1, 1963. His death, at age 57, was the result of complications following a heart attack.
Anastasio's son-in-law, Anthony Scotto, succeeded him in running the longshoremen's union. A life of crime may have been passed down from one generation to the next as well, as Scotto allegedly also became a member of the Gambino crime family.
Born
February, 24, 1906
Tropea, Italy
Died
March, 03, 1963
Brooklyn, New York
Cause of Death
Cemetery
Holy Cross Cemetery
Brooklyn, New York
3114 profile views