Anna Nicole Smith
(Vickie Lynn Hogan)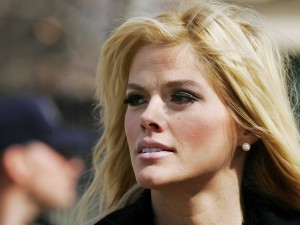 Anna Nicole Smith
Anna Nicole Smith (born Vickie Lynn Hogan; November 28, 1967 – February 8, 2007) was an American model, actress, and television personality. Smith first gained popularity in Playboy, winning the 1993 Playmate of the Year. She modeled for clothing companies, including Guess jeans and Lane Bryant.
Anna Nicole Smith dropped out of high school at age 15 and was married three years later, in 1985. Her highly publicized second marriage to J. Howard Marshall resulted in speculation that she married the octogenarian mainly for his money, which she denied. Following Marshall's death, Smith began a lengthy legal battle over a share of his estate. Her case, Marshall v. Marshall, reached the U.S. Supreme Court on a question of federal jurisdiction, and again on a question of bankruptcy court authority (now called Stern v. Marshall).Anna Nicole Smith died on February 8, 2007 in a Hollywood, Florida hotel room as a result of an overdose of prescription drugs. During the final six months of her life, Smith was the focus of renewed press coverage surrounding the death of her son, Daniel, and the paternity and custody battle over her newborn daughter, Dannielynn.
(April 28, 1998) Crowned Miss Republic of Cuervo Gold, a title she retained for one year. She was one of 8 contestants, but won because "her party spirit won out".
She liked lying in bed, watching television and shopping.
Former Guess? Jeans and Lane Bryant model; she began modeling at age 20.
Her Playmate data sheet for May 1992 gives her measurements at 36DD-26-38 with a weight of 140 lbs. When she became Playmate of the year, her weight was reported at 155 lbs. Her weight reached a peak of 224 lbs in 1996, but she managed to slim down to a reported 138 lbs in 1997. She gained weight since and was close to her peak weight in 2002, but she lost down to her natural weight in 2005 (back down to her 1990s modeling weight) and was a representative of a weight-loss program.
Worked in a fried chicken restaurant in Mexia, Texas, and married one of the cooks (Billy Smith), according to her Playboy Playmate of the Year interview.
An advertising campaign for Swedish fashion company "H&M" with posters of Anna caused several car accidents in major European cities (1994).
Born to Donald Eugene Hogan and Virgie Mae Tabers, she was raised by her mother and her aunt Elaine after her parents' divorce in 1969.
Descended from George Soule, married with Mary Bucket or Becket and Mayflower passenger.
Before landing her first cover of Playboy magazine, Anna was working at Wal-Mart earning $60 a week.
Anna's line from her Trim-Spa commercials, "Like my body?", also became her catchphrase.
Was a supporter of gays and lesbians, and even attended the 35th annual Los Angeles Gay, Lesbian, Bisexual and Transgender Pride Parade in 2005.
Her substantial Guess earnings enabled her to hire a nanny to help care for then-7-year-old-son Daniel and buy a four-bedroom home in Houston, three horses and two cars.
New York City Opera opened its season on September 17, 2013 at the Brooklyn Academy of Music with the American premiere of "Anna Nicole", an original opera by British composer Mark-Anthony Turnage.
Born
November, 28, 1967
Mexia, TX
Died
February, 08, 2007
Hollywood, FL
Cause of Death
Cemetery
Lakeview Memorial Gardens & Mausoleums
Nassau, Bahamas
18330 profile views