Anita Page
(Anita Evelyn Pomares)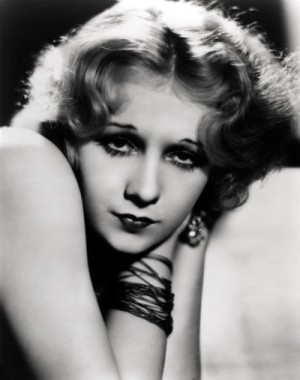 She was born Anita Evelyn Pomares to Marino, Sr. and Maude (née Mullane) Pomares. She had one brother, Marino Jr., who later worked for her as a gym instructor while her mother worked as her secretary and her father as her chauffeur. Of Salvadoran ancestry, Page's grandfather was a consul from El Salvador.  Page entered films with the help of friend, actress Betty Bronson. A photo of Page was spotted by a man who handled Bronson's fan mail who was also interested in representing actors. With the encouragement of her mother, Page telephoned the man who arranged a meeting for her with a casting director at Paramount Studios. After screentesting for Paramount, Page also tested for MGM. After being offered a contract for both studios, Page decided on MGM. Page's first film for MGM was the 1928 comedy-drama Telling the World, opposite William Haines. Her performances in her second MGM film, Our Dancing Daughters (1928) opposite Joan Crawford (with whom she appeared in three films), and The Broadway Melody (1929) opposite Bessie Love were her greatest successes of the period, and her popularity allowed her to make a smooth transition into talking pictures.
She was the leading lady to Lon Chaney, Buster Keaton, Robert Montgomery, and Clark Gable (among others) and during the early 1930s, she was one of Hollywood's busiest actresses. She was involved briefly with Gable romantically during that time. At the height of her popularity, she was receiving more fan mail than any other female star, with the exception of Greta Garbo, and received multiple marriage proposals from Benito Mussolini in the mail.  When her contract expired in 1933, she surprised Hollywood by announcing her retirement at the age of 23. She made one more movie, Hitch Hike to Heaven, in 1936, and then left the screen, virtually disappearing from Hollywood circles for sixty years. In a 2004 interview with author Scott Feinberg, she claimed that her refusal to meet demands for sexual favors by MGM head of production Irving Thalberg, supported by studio chief Louis B. Mayer, is what truly ended her career. She said that Mayer colluded with the other studio bosses to ban her and other uncooperative actresses from finding work.  She married composer Nacio Herb Brown in 1934, but the marriage was annulled a year later because Brown's previous divorce had not been finalized at the time they were married. She married Lieutenant Hershel A. House, a Navy pilot, in 1937 and they moved to Coronado, California and lived there until his death in 1991. They had two daughters, Linda (now Linda Sterne) and Sandra (who predeceased Page).
Page returned to the screen in 1996 after sixty years retirement and appeared in several low budget horror films. Film veteran Margaret O'Brien appeared in two of them. During this period, she moved in with her co-star and occasional director, Randal Malone at his Van Nuys home.  Page relished her status as "last star of the silents" and frequently gave interviews and appeared in documentaries about the era. Ill health prevented her from making public appearances in her final years.  Page died on September 6, 2008 at her Los Angeles home, at the age of 98. She is buried in the Holy Cross Cemetery in San Diego.  At the time of her death in September 2008, she was among the last to have acted as an adult in silent films (Barbara Kent and Miriam Seegar are among the handful of others) to live into the 21st century. She was also the last living attendee of the very first Academy Awards ceremony in 1929.  For her contribution to the motion picture industry, Anita Page has a star on the Hollywood Walk of Fame at 6116 Hollywood Boulevard.
Born
August, 04, 1910
Flushing, Queens, New York
Died
September, 06, 2008
Los Angeles, California
Cemetery
Holy Cross Cemetery
San Diego, California
16654 profile views