Anita Carter
(Ina Anita Carter)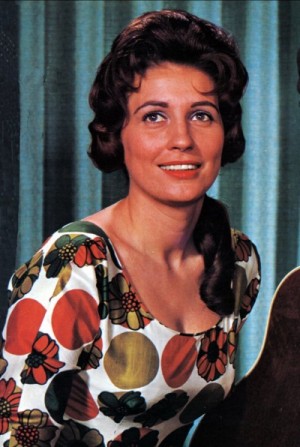 Anita Carter
Born in Maces Spring, Virginia, she scored two Top Ten hits in 1951 with "Down The Trail of Achin' Hearts" with Hank Snow at No. 2 and "Blue Bird Island" at No. 4. She reached the Top Ten again in 1968 with "I Got You" with Waylon Jennings at No. 4. Other solo releases charted as well. Carter recorded two folk albums in the 1960s. In 1962, she recorded a song co-written by her sister June and Merle Kilgore called "Love's Ring Of Fire".
After hearing the record, her future brother-in-law, Johnny Cash, reportedly dreamed of hearing Mexican horns on the record and told Anita that if her song did not hit in five or six months he would record it "the way I feel about it." After the song failed to make the charts, Cash recorded it as "Ring Of Fire" in March 1963 with the horns and the Carter Sisters (along with Mother Maybelle). The revised song went on to gain wide international popularity and became one of the biggest hits of his career. She appears in a video clip, currently on YouTube, in a duet with Hank Williams, of his song 'I Can't Help It'.
Carter suffered from rheumatoid arthritis for many years, and the drugs used to treat it severely damaged her pancreas, kidneys, and liver. She died on July 29, 1999, at the age of 66, a year after eldest sister Helen and four years before middle sister June. She was under hospice care at the home of Johnny and June Carter Cash in Hendersonville, Tennessee.
Her interment was in Hendersonville Memory Gardens in Hendersonville, Tennessee.
Born
March, 31, 1933
Maces Springs, Virginia
Died
July, 29, 1999
Goodlettsvile, Tennessee
Cause of Death
rheumatoid arthritis for many years, and the drugs used to treat it severely damaged her pancreas, kidneys, and liver
Cemetery
Hendersonville Memory Gardens
Hendersonville, Tennessee
16888 profile views