Andy Warhol
(Andrew Warhola)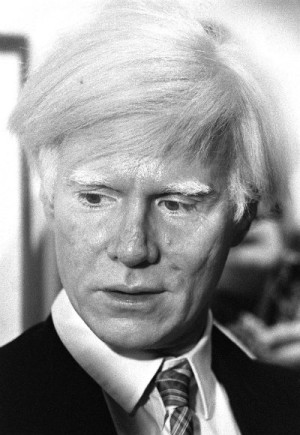 Andy Warhol
Andy Warhol (né Andrej Varhola, Jr.) was born on August 6, 1928 in Pittsburgh, Pennsylvania. He was the fourth child of Andrej Varhola (Americanized as Andrew Warhola, Sr., 1889–1942) and Júlia (née Zavacká, 1892–1972), whose first child was born in their homeland and died before their move to the U.S. Andy had two older brothers, Paul (June 26, 1922 – January 30, 2014) and John Warhola (May 31, 1925 – December 24, 2010).  His parents were working-class Lemko emigrants from Mikó (now called Miková), located in today's northeastern Slovakia, part of the former Austro-Hungarian Empire. Warhol's father immigrated to the United States in 1914, and his mother joined him in 1921, after the death of Warhol's grandparents. Warhol's father worked in a coal mine. The family lived at 55 Beelen Street and later at 3252 Dawson Street in the Oakland neighborhood of Pittsburgh. The family was Byzantine Catholic and attended St. John Chrysostom Byzantine Catholic Church. Andy Warhol had two older brothers—Pavol (Paul), the oldest, was born before the family emigrated; Ján was born in Pittsburgh. Pavol's son, James Warhola, became a successful children's book illustrator. About 1939, he started to collect autographed cards of film stars.  In third grade, Warhol had Sydenham's chorea (also known as St. Vitus' Dance), the nervous system disease that causes involuntary movements of the extremities, which is believed to be a complication of scarlet fever which causes skin pigmentation blotchiness. He became a hypochondriac, developing a fear of hospitals and doctors. Often bedridden as a child, he became an outcast at school and bonded with his mother. At times when he was confined to bed, he drew, listened to the radio and collected pictures of movie stars around his bed. Warhol later described this period as very important in the development of his personality, skill-set and preferences. When Warhol was 13, his father died in an accident.  As a teenager, Warhol graduated from Schenley High School in 1945. After graduating from high school, his intentions were to study art education at the University of Pittsburgh in the hope of becoming an art teacher, but his plans changed and he enrolled in the Carnegie Institute of Technology in Pittsburgh, where he studied commercial art. In 1949, he moved to New York City and began a career in magazine illustration and advertising. In 1949, he earned a Bachelor of Fine Arts in pictorial design.
During the 1950s, Warhol gained fame for his whimsical ink drawings of shoe advertisements. These were done in a loose, blotted-ink style, and figured in some of his earliest showings at the Bodley Gallery in New York. With the concurrent rapid expansion of the record industry and the introduction of the vinyl record, Hi-Fi, and stereophonic recordings, RCA Records hired Warhol, along with another freelance artist, Sid Maurer, to design album covers and promotional materials.  Warhol was an early adopter of the silk screen printmaking process as a technique for making paintings. His earliest silkscreening in painting involved hand-drawn images though this soon progressed to the use of photographically derived silkscreening in paintings. Prior to entering the field of fine art, Warhol's commercial art background also involved innovative techniques for image making that were somewhat related to printmaking techniques. When rendering commercial objects for advertising Warhol devised a technique that resulted in a characteristic image. His imagery used in advertising was often executed by means of applying ink to paper and then blotting the ink while still wet. This was akin to a printmaking process on the most rudimentary scale.  Warhol's work both as a commercial artist and later a fine artist displays a casual approach to image making, in which chance plays a role and mistakes and unintentional marks are tolerated. The resulting imagery in both Warhol's commercial art and later in his fine art endeavors is often replete with imperfection—smudges and smears can often be found. In his book "POPism" Warhol writes, "When you do something exactly wrong, you always turn up something."
He began exhibiting his work during the 1950s. He held exhibitions at the Hugo Gallery, and the Bodley Gallery in New York City and in California his first West Coast gallery exhibition was on July 9, 1962, in the Ferus Gallery of Los Angeles. The exhibition marked his West Coast debut of pop art. Andy Warhol's first New York solo pop art exhibition was hosted at Eleanor Ward's Stable Gallery November 6–24, 1962. The exhibit included the works Marilyn Diptych, 100 Soup Cans, 100 Coke Bottles, and 100 Dollar Bills. At the Stable Galleryexhibit, the artist met for the first time poet John Giorno who would star in Warhol's first film, Sleep, in 1963.  It was during the 1960s that Warhol began to make paintings of iconic American objects such as dollar bills, mushroom clouds, electric chairs, Campbell's Soup Cans, Coca-Cola bottles, celebrities such as Marilyn Monroe, Elvis Presley, Marlon Brando, Troy Donahue, Muhammad Ali, and Elizabeth Taylor, as well as newspaper headlines or photographs of police dogs attacking civil rights protesters. During these years, he founded his studio, "The Factory" and gathered about him a wide range of artists, writers, musicians, and underground celebrities. His work became popular and controversial. Warhol had this to say about Coca Cola:
What's great about this country is that America started the tradition where the richest consumers buy essentially the same things as the poorest. You can be watching TV and see Coca-Cola, and you know that the President drinks Coca-Cola, Liz Taylor drinks Coca-Cola, and just think, you can drink Coca-Cola, too. A Coke is a Coke and no amount of money can get you a better Coke than the one the bum on the corner is drinking. All the Cokes are the same and all the Cokes are good. Liz Taylor knows it, the President knows it, the bum knows it, and you know it.

New York's Museum of Modern Art hosted a Symposium on pop art in December 1962 during which artists like Warhol were attacked for "capitulating" to consumerism. Critics were scandalized by Warhol's open embrace of market culture. This symposium set the tone for Warhol's reception. Throughout the decade it became increasingly clear that there had been a profound change in the culture of the art world, and that Warhol was at the center of that shift.  A pivotal event was the 1964 exhibit The American Supermarket, a show held in Paul Bianchini's Upper East Side gallery. The show was presented as a typical U.S. small supermarket environment, except that everything in it—from the produce, canned goods, meat, posters on the wall, etc.—was created by six prominent pop artists of the time, among them the controversial (and like-minded) Billy Apple, Mary Inman, and Robert Watts. Warhol's painting of a can of Campbell's soup cost $1,500 while each autographed can sold for $6. The exhibit was one of the first mass events that directly confronted the general public with both pop art and the perennial question of what art is.
As an advertisement illustrator in the 1950s, Warhol used assistants to increase his productivity. Collaboration would remain a defining (and controversial) aspect of his working methods throughout his career; this was particularly true in the 1960s. One of the most important collaborators during this period was Gerard Malanga. Malanga assisted the artist with the production of silkscreens, films, sculpture, and other works at "The Factory," Warhol's aluminum foil-and-silver-paint-lined studio on 47th Street (later moved to Broadway). Other members of Warhol's Factory crowd includedFreddie Herko, Ondine, Ronald Tavel, Mary Woronov, Billy Name, and Brigid Berlin (from whom he apparently got the idea to tape-record his phone conversations).  During the 1960s, Warhol also groomed a retinue of bohemian and counterculture eccentrics upon whom he bestowed the designation "Superstars", including Nico, Joe Dallesandro, Edie Sedgwick,Viva, Ultra Violet, Holly Woodlawn, Jackie Curtis, and Candy Darling. These people all participated in the Factory films, and some—like Berlin—remained friends with Warhol until his death. Important figures in the New York underground art/cinema world, such as writer John Giorno and film-maker Jack Smith, also appear in Warhol films of the 1960s, revealing Warhol's connections to a diverse range of artistic scenes during this time.
On June 3, 1968, radical feminist writer Valerie Solanas shot Warhol and Mario Amaya, art critic and curator, at Warhol's studio. Before the shooting, Solanas had been a marginal figure in the Factory scene. She authored in 1967 the S.C.U.M. Manifesto, a separatist feminist tract that advocated the elimination of men; and appeared in the 1968 Warhol film I, a Man. Earlier on the day of the attack, Solanas had been turned away from the Factory after asking for the return of a script she had given to Warhol. The script had apparently been misplaced.  Amaya received only minor injuries and was released from the hospital later the same day. Warhol was seriously wounded by the attack and barely survived: surgeons opened his chest and massaged his heart to help stimulate its movement again. He suffered physical effects for the rest of his life, including being required to wear a surgical corset. The shooting had a profound effect on Warhol's life and art.  Solanas was arrested the day after the assault. By way of explanation, she said that Warhol "had too much control over my life." She was eventually sentenced to three years under the control of the Department of Corrections. After the shooting, the Factory scene became much more tightly controlled, and for many the "Factory 60s" ended.  Warhol had this to say about the attack: "Before I was shot, I always thought that I was more half-there than all-there—I always suspected that I was watching TV instead of living life. People sometimes say that the way things happen in movies is unreal, but actually it's the way things happen in life that's unreal. The movies make emotions look so strong and real, whereas when things really do happen to you, it's like watching television—you don't feel anything. Right when I was being shot and ever since, I knew that I was watching television. The channels switch, but it's all television."
Compared to the success and scandal of Warhol's work in the 1960s, the 1970s were a much quieter decade, as he became more entrepreneurial. According to Bob Colacello, Warhol devoted much of his time to rounding up new, rich patrons for portrait commissions—including Shah of Iran Mohammad Reza Pahlavi, his wife Empress Farah Pahlavi, his sister Princess Ashraf Pahlavi, Mick Jagger, Liza Minnelli, John Lennon, Diana Ross, and Brigitte Bardot. Warhol's famous portrait of Chinese Communist leader Mao Zedong was created in 1973. He also founded, with Gerard Malanga, Interview magazine, and published The Philosophy of Andy Warhol (1975). An idea expressed in the book: "Making money is art, and working is art and good business is the best art."   Warhol used to socialize at various nightspots in New York City, including Max's Kansas City; and, later in the 1970s, Studio 54. He was generally regarded as quiet, shy, and a meticulous observer. Art critic Robert Hughes called him "the white mole of Union Square."  With his longtime friend Stuart Pivar, Warhol founded the New York Academy of Art in 1979.
Warhol had a re-emergence of critical and financial success in the 1980s, partially due to his affiliation and friendships with a number of prolific younger artists, who were dominating the "bull market" of 1980s New York art: Jean-Michel Basquiat, Julian Schnabel, David Salle and other so-called Neo-Expressionists, as well as members of the Transavantgarde movement in Europe, including Francesco Clemente and Enzo Cucchi.  By this period, Warhol was being criticized for becoming merely a "business artist". In 1979, reviewers disliked his exhibits of portraits of 1970s personalities and celebrities, calling them superficial, facile and commercial, with no depth or indication of the significance of the subjects. They also criticized his 1980 exhibit of 10 portraits at the Jewish Museum in New York, entitled Jewish Geniuses, which Warhol—who was uninterested in Judaism and Jews—had described in his diary as "They're going to sell." In hindsight, however, some critics have come to view Warhol's superficiality and commerciality as "the most brilliant mirror of our times," contending that "Warhol had captured something irresistible about the zeitgeist of American culture in the 1970s."  Warhol also had an appreciation for intense Hollywood glamour. He once said: "I love Los Angeles. I love Hollywood. They're so beautiful. Everything's plastic, but I love plastic. I want to be plastic."
Warhol died in New York City at 6:32 am on February 22, 1987. According to news reports, he had been making good recovery from a routine gallbladder surgery at New York Hospital before dying in his sleep from a sudden post-operative cardiac arrhythmia. Prior to his diagnosis and operation, Warhol delayed having his recurring gallbladder problems checked, as he was afraid to enter hospitals and see doctors. His family sued the hospital for inadequate care, saying that the arrhythmia was caused by improper care and water intoxication. The malpractice case was quickly settled out of court; Warhol's family received an undisclosed sum of money.Warhol's body was taken back to Pittsburgh by his brothers for burial. The wake was at Thomas P. Kunsak Funeral Home and was an open-coffin ceremony. The coffin was a solid bronze casket with gold plated rails and white upholstery. Warhol was dressed in a black cashmere suit, a paisley tie, a platinum wig, and sunglasses. He was posed holding a small prayer book and a red rose. The funeral liturgy was held at the Holy Ghost Byzantine Catholic Church on Pittsburgh's North Side. The eulogy was given by Monsignor Peter Tay. Yoko Ono and John Richardson were speakers. The coffin was covered with white roses and asparagus ferns. After the liturgy, the coffin was driven to St. John the Baptist Byzantine Catholic Cemetery in Bethel Park, a south suburb of Pittsburgh.  At the grave, the priest said a brief prayer and sprinkled holy water on the casket. Before the coffin was lowered, Paige Powell dropped a copy of Interview magazine, an Interview T-shirt, and a bottle of the Estee Lauder perfume "Beautiful" into the grave. Warhol was buried next to his mother and father. A memorial service was held in Manhattan for Warhol on April 1, 1987, at St. Patrick's Cathedral, New York.
Warhol's will dictated that his entire estate — with the exception of a few modest legacies to family members — would go to create a foundation dedicated to the "advancement of the visual arts". Warhol had so many possessions that it took Sotheby's nine days to auction his estate after his death; the auction grossed more than US$20 million.  In 1987, in accordance with Warhol's will, the Andy Warhol Foundation for the Visual Arts began. The foundation serves as the estate of Andy Warhol, but also has a mission "to foster innovative artistic expression and the creative process" and is "focused primarily on supporting work of a challenging and often experimental nature."  The Artists Rights Society is the U.S. copyright representative for the Andy Warhol Foundation for the Visual Arts for all Warhol works with the exception of Warhol film stills. The U.S. copyright representative for Warhol film stills is the Warhol Museum in Pittsburgh. Additionally, the Andy Warhol Foundation for the Visual Arts has agreements in place for its image archive. All digital images of Warhol are exclusively managed by Corbis, while all transparency images of Warhol are managed by Art Resource.The Andy Warhol Foundation released its 20th Anniversary Annual Report as a three-volume set in 2007: Vol. I, 1987–2007; Vol. II, Grants & Exhibitions; and Vol. III, Legacy Program. The Foundation remains one of the largest grant-giving organizations for the visual arts in the U.S.
Born
August, 06, 1928
Pittsburgh, Pennsylvania
Died
February, 22, 1987
New York, New York
Cause of Death
Cemetery
Saint John the Baptist Byzantine Catholic Cemetery
Bethel Park, Pennsylvania
18923 profile views