Amy Winehouse
(Amy Winehouse)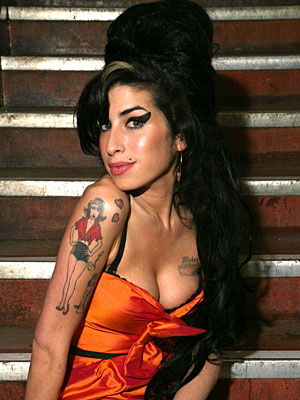 Amy Winehouse was born in Chase Farm Hospital in north London, to Jewish parents. Her father, Mitchell "Mitch" Winehouse, was a window panel installer then a taxi driver; her mother, Janis Winehouse (née Seaton), a pharmacist. Amy had an older brother, Alex (born 1979), and the family lived in London's Southgate area.  Part of her mother's family originated in Russia, and many of her uncles on that side of the family were professional jazz musicians. Amy's paternal grandmother, Cynthia, was a singer and dated English jazz legend Ronnie Scott. She and Amy's parents influenced Amy's interest in jazz. Her father Mitch often sang Frank Sinatra songs to her, and she herself took to a constant habit of singing to the point that teachers found it difficult keeping her quiet in class.[citation needed] Winehouse's parents separated when she was nine, and she lived with her mother and stayed with her father and his girlfriend in Hatfield Heath, Essex on weekends.  That same year, her grandmother Cynthia suggested she attend the Susi Earnshaw Theatre School, where she went on Saturdays to further her vocal education and to learn to tap dance. She attended the school for four years and founded a short-lived rap group called Sweet 'n' Sour with Juliette Ashby, her childhood friend before seeking full-time training at Sylvia Young Theatre School. Winehouse was allegedly expelled at 14 for "not applying herself" and also for piercing her nose. (Sylvia Young has denied this—"She changed schools at 15—I've heard it said she was expelled; she wasn't. I'd never have expelled Amy"—as has Mitch Winehouse.) She also appeared in an episode of The Fast Show, 1997, with other children from the Sylvia Young School and later attended The Mount School, Mill Hill, the BRIT School in Selhurst, Croydon, Southgate School and then Ashmole School.
Winehouse's debut album, Frank, was released on 20 October 2003. Produced mainly by Salaam Remi, many songs were influenced by jazz and, apart from two covers, Winehouse co-wrote every song. The album received positive reviews with compliments over the "cool, critical gaze" in its lyrics and brought comparisons of her voice to Sarah Vaughan, Macy Gray and others.  The album entered the upper levels of the UK album chart in 2004 when it was nominated for BRIT Awards in the categories of "British Female Solo Artist" and "British Urban Act". It went on to achieve platinum sales. Later in 2004, she and Remi won the Ivor Novello Award for Best Contemporary Song, for their first single together, "Stronger Than Me". The album was also shortlisted for the 2004 Mercury Music Prize. In the same year she performed at the Glastonbury Festival – Jazzworld, the V Festival and the Montreal International Jazz Festival (7 July 2004, at the Club Soda). After the release of the album, Winehouse commented that she was "only 80 percent behind [the] album" because Island Records had overruled her preferences for the songs and mixes to be included. Further singles from the album were "Take the Box", "In My Bed"/"You Sent Me Flying" and "Pumps"/"Help Yourself".
In contrast to her jazz-influenced former album, Winehouse's focus shifted to the girl groups of the 1950s and 1960s. Winehouse hired New York singer Sharon Jones's longtime band, the Dap-Kings to back her up in the studio and on tour. Mitch Winehouse relates in Amy, My Daughter how fascinating watching her process was: her perfectionism in the studio and how she would put what she had sung on a CD and play it in his taxi outside to know how most people would hear her music. In May 2006, Winehouse's demo tracks such as "You Know I'm No Good" and "Rehab" appeared on Mark Ronson's New York radio show on East Village Radio. These were some of the first new songs played on the radio after the release of "Pumps" and both were slated to appear on her second album. The 11-track album, completed in five months, was produced entirely by Salaam Remi and Ronson, with the production credits being split between them. Ronson said in a 2010 interview that he liked working with Winehouse because she was blunt when she did not like his work. She in turn thought that when they first met, he was a sound engineer and that he was expecting an older man with a beard. Promotion of Back to Black soon began and, in early October 2006 Winehouse's official website was relaunched with a new layout and clips of previously unreleased songs. Back to Black was released in the UK on 30 October 2006. It went to number one on the UK Albums Chart for two weeks in January 2007, dropping then climbing back for several weeks in February. In the US, it entered at number seven on the Billboard 200. It was the best-selling album in the UK of 2007, selling 1.85 million copies over the course of the year.
The album spawned a number of hit singles. The first single released from the album was the Ronson-produced "Rehab". The song reached the top ten in the UK and the US. Time magazine named "Rehab" the Best Song of 2007. Writer Josh Tyrangiel praised Winehouse for her confidence, saying, "What she is is mouthy, funny, sultry, and quite possibly crazy" and "It's impossible not to be seduced by her originality. Combine it with production by Mark Ronson that references four decades worth of soul music without once ripping it off, and you've got the best song of 2007." The album's second single and lead single in the US, "You Know I'm No Good", was released in January 2007 with a remix featuring rap vocals by Ghostface Killah. It ultimately reached number 18 on the UK singles chart. The title track, "Back to Black", was released in the UK in April 2007 and peaked at number 25, but was more successful across mainland Europe. "Tears Dry on Their Own", "Love Is a Losing Game" and "Just Friends" were also released as singles, but failed to achieve the same level of success.
A deluxe edition of Back to Black was also released on 5 November 2007 in the UK. The bonus disc features B-sides, rare, and live tracks, as well as "Valerie". Winehouse's debut DVD I Told You I Was Trouble: Live in London was released the same day in the UK and 13 November in the US. It includes a live set recorded at London's Shepherd's Bush Empire and a 50-minute documentary charting the singer's career over the previous four years. Frank was released in the United States on 20 November 2007 to positive reviews. The album debuted at number 61 on the Billboard 200 chart. In addition to her own album she collaborated with other artists on singles. Winehouse was a vocalist on the song "Valerie" on Ronson's solo album Version. The song peaked at number two in the UK, upon its October single release. The song was nominated for a 2008 Brit Award for "Best British Single". Her work with ex-Sugababe Mutya Buena, "B Boy Baby", was released on 17 December 2007. It served as the fourth single from Buena's debut album, Real Girl. Winehouse was also in talks of working with Missy Elliott for her album, Block Party.
Winehouse toured in conjunction with the Back to Black album's release, performing headliners in September and November 2006, including a Little Noise Sessions charity concert at the Union Chapel in Islington. On 31 December 2006, Winehouse appeared on Jools Holland's Annual Hootenanny and performed a cover of Marvin Gaye's "I Heard It Through the Grapevine" along with Paul Weller and Holland's Rhythm and Blues Orchestra. She also performed Toots and the Maytals' "Monkey Man". She began a run of another 14 gigs beginning in February 2007. At his request, Bruce Willis introduced Winehouse before her performance of "Rehab" at the 2007 MTV Movie Awards. She'd made awards organizers nervous when she went on a Las Vegas jaunt in the hours before the show. During the summer of 2007, she performed at various festivals, including UK's Glastonbury Festival, Lollapalooza festival in Chicago, Belgium's Rock Werchter and Virgin Music Festival in Baltimore.
The rest of her tour, however, did not go as well. In November 2007 the opening night of a 17-date tour was marred by booing and walkouts at the National Indoor Arena in Birmingham. A critic for the Birmingham Mail said it was "one of the saddest nights of my life…I saw a supremely talented artist reduced to tears, stumbling around the stage and, unforgivably, swearing at the audience." Other concerts ended similarly, with, for example, fans at her Hammersmith Apollo performance saying that she "looked highly intoxicated throughout", until she announced on 27 November 2007, that her performances and public appearances were cancelled for the remainder of the year, citing her doctor's advice to take a complete rest. A statement issued by concert promoter Live Nation blamed "the rigours involved in touring and the intense emotional strain that Amy has been under in recent weeks" for the decision. Mitch Winehouse wrote about her nervousness before public performances in his 2012 book, Amy, My Daughter.
Winehouse's battles with substance abuse were the subject of much media attention. In 2005, she went through a period of drinking, heavy drug use, and weight loss. People who saw her during the end of that year and early 2006 reported a rebound that coincided with the writing of Back to Black. Her family believes that the mid-2006 death of her grandmother, who was a stabilising influence, set her off into addiction. In August 2007, Winehouse cancelled a number of shows in the UK and Europe, citing exhaustion and ill health. She was hospitalised during this period for what was reported as an overdose of heroin, ecstasy, cocaine, ketamine and alcohol. In various interviews, she admitted to having such problems with self-harm, depression, and eating disorders.  Winehouse told a magazine that the drugs were to blame for her hospitalisation and that "I really thought that it was over for me then." Soon afterward, Winehouse's father commented that when he had made public statements regarding her problems he was using the media because it seemed the only way to get through to her. In an interview with The Album Chart Show on British television, Winehouse said she was manic depressive and not alcoholic, adding that that sounded like "an alcoholic in denial". A U.S. reporter writes that Winehouse was a "victim of mental illness in a society that doesn't understand or respond to mental illness with great effectiveness".  In December 2007, Winehouse's spokesman reported that the singer was in a physician-supervised programme and was channelling her difficulties by writing a lot of music. The British tabloid The Sun posted a video of a woman, alleged to be Winehouse, apparently smoking crack cocaine and speaking of having taken ecstasy and valium. Winehouse's father moved in with her, and Island Records, her record label, announced the abandonment of plans for an American promotion campaign on her behalf. In late January 2008, Winehouse reportedly entered a rehabilitation facility for a two-week treatment program.  On 23 January 2008, the video was passed on to the Metropolitan Police, who questioned her on 5 February. No charges were brought. On 26 March 2008, Winehouse's spokesman said she was "doing well." Her record company reportedly believed that her recovery remained fragile. By late April 2008, her erratic behaviour, including an allegation of assault, caused fear that her drug rehabilitation efforts had been unsuccessful, leading to efforts by Winehouse's father and manager to seek assistance in having her involuntarily committed. Her dishevelled appearance during and after a scheduled club night in September sparked new rumours of a relapse. Photographers were quoted as saying she appeared to have cuts on her legs and arms.  According to Winehouse's physician, Winehouse quit illegal substances in 2008. In an October 2010 interview, speaking of her decision to quit drugs, Winehouse said, "I literally woke up one day and was like, 'I don't want to do this any more'". Drinking alcohol emerged as a problem with Winehouse abstaining for a few weeks then lapsing. The physician said that Winehouse was treated with Librium for alcohol withdrawal and anxiety, and underwent psychological and psychiatric evaluations in 2010, but refused psychological therapy.
Winehouse began binge drinking alcohol in 2008 after ceasing her dependence on illicit drugs. By summer 2011, she had fallen into a pattern of abstaining from alcohol for a few weeks, and then relapsing. One such relapse led to her death by alcohol intoxication in the morning hours of 23 July 2011.  Winehouse's bodyguard said that he arrived at her residence three days before her death and felt she was somewhat intoxicated. He observed moderate drinking over the next few days. He observed her "laughing, listening to music and watching TV at 2 am the day of her death". According to the bodyguard, at 10 am he observed her lying on her bed and tried unsuccessfully to rouse her. This did not raise much suspicion because she usually slept late after a night out. According to the bodyguard, shortly after 3 pm, he checked on her again and observed her lying in the same position as before, leading to a further check, in which he concluded that she was not breathing and had no pulse. He said he subsequently called emergency services.  At 3:54 pm BST on 23 July 2011, two ambulances were called to Winehouse's home in Camden, London. Winehouse was pronounced dead at the scene. Shortly afterwards, the Metropolitan Police confirmed that she had died. After her death was announced, media and camera crews appeared, as crowds gathered near Winehouse's residence to pay their respects. Forensic investigators entered the flat as police cordoned off the street outside; they recovered one small and two large bottles of vodka from her room. After that day, the singer broke her second Guinness World Record: for the most number of simultaneous hit songs to enter the UK singles chart by a woman.  A coroner's inquest reached a verdict of misadventure. The report released on 26 October 2011 explained that Winehouse's blood alcohol content was 416 mg per 100ml (0.416%) at the time of her death, more than five times the legal drink-drive limit. According to the coroner, "The unintended consequences of such potentially fatal levels was her sudden death."Romanian singers Rona Hartner, Paula Seling, Nico and Maria Radu performing at a memorial Amy Winehouse concert in Bucharest on 23 October 2011.
Winehouse's record label, Universal Republic, released a statement that read in part: "We are deeply saddened at the sudden loss of such a gifted musician, artist and performer." Many musical artists have since paid tribute to Winehouse including U2, M.I.A., Lady Gaga, Mutya Buena, Marianne Faithfull, Bruno Mars, Nicki Minaj, Keisha Buchanan, Rihanna, George Michael, Adele, Kelly Clarkson, Courtney Love, and the American punk rock band Green Day, who wrote a song in her tribute titled "Amy." Because she died seventeen years after Cobain's death, there was a large amount of media attention devoted to the 27 Club once again. Three years earlier, she had expressed a fear of dying at that age.  Family and friends attended Winehouse's funeral on 26 July 2011 at Edgwarebury Lane cemetery in north London. Her mother and father, Janis and Mitch Winehouse, close friend Kelly Osbourne, producer Mark Ronson and her boyfriend Reg Traviss were among those in attendance at the private service led by Rabbi Frank Hellner. Her father delivered the eulogy, saying "Goodnight, my angel, sleep tight. Mummy and Daddy love you ever so much." Carole King's "So Far Away" closed the service with mourners singing along. She was later cremated at Golders Green Crematorium. The family planned to sit a two-day shiva. Winehouse's parents set up The Amy Winehouse Foundation to prevent harm from drug misuse among young people, and Amy Winehouse's brother Alex is an employee. Winehouse did not leave a will; her estate is inherited by her parents.  On 17 December 2012, British authorities reopened the probe of Winehouse's death. On 8 January 2013, a second inquest confirmed that Winehouse died of accidental alcohol poisoning.
Born
September, 14, 1983
Southgate, Greater London, England
Died
July, 23, 2011
Camden Town, Greater London, England
Cemetery
Edgwarebury Cemetery
Edgware, Greater London, England
18091 profile views