Amanda Blake
(Amanda Blake)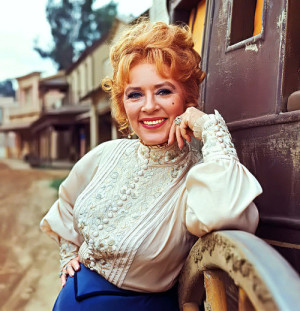 Amanda Blake
Actress. She was born in Buffalo, New York as Beverly Louise Neill an only Child. She arrived in Claremont, California during a move with her family. While working as a telephone operator she began doing bit parts for MGM which landed her a contract. After a few menial movie appearances, she landed the role at age 27 that would make her a household name for the next 20 years, Miss Kathleen "Kitty" Russell. Gunsmoke was TV's longest running Western as well as its longest running prime-time series with continuing characters. Totals: 233 half-hour episodes and 400 hour episodes were filmed. Color broadcasts began in 1966. Gunsmoke originated on the radio in 1952 with William Conrad reading the part of Matt Dillion. Amanda Blake began with the series and when she left, it went into the tank after one final year. She left Gunsmoke, tired of the role, with a few poignant remarks, 'God, if I have to put on that damn bustle and those curls one more time, I'm gonna snap and then reasoned, nineteen years is a hell of long time for someone to be stuck behind a bar.' Amanda's career quickly faltered. She made a Love Boat appearance and was featured in a reunion of Gunsmoke characters in 1987, 'Return to Dodge,' the first of several Gunsmoke TV movies. She became an animal rights activist. A longtime heavy smoker, she was forced to undergo oral cancer surgery and then had to enter therapy to enable her to regain some speech. Amanda became an avid American Cancer Society spokesperson highlighting the evils of smoking which resulted in the annual Courage Award from the Society presented to her by then President Ronald Reagan. While living on a ranch at nearby Galt, California, she was admitted to Mercy General hospital in Sacramento where she died at the age of 60. The five time married actress was cremated without fanfare and her ashes were given to her family for disposition. Her will specified that all her memorabilia be auctioned off with the proceeds going to the Performing Animals Welfare Society (PAWS).
Born
February, 20, 1929
Erie County, New York
Died
August, 16, 1989
Sacramento, California
Cause of Death
Cemetery
Other
Cremated. Ashes spread over the animal reserve she helped establish.
19290 profile views