Alphonse Balat
(Alphonse Balat)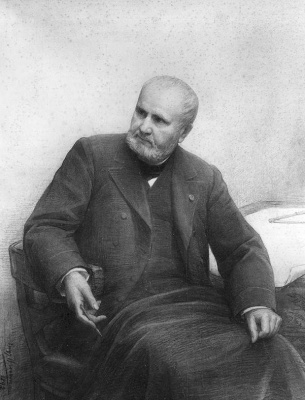 Balat was born in Gochenée. He studied at the Academie of Namur and obtained his degree in architecture from the Academy of Antwerp in 1838. In 1839 he stayed in Paris for a year but returned after his father's death. He was soon discovered by the Walloon nobility for which he built or renovated a number of 'Château's' (amongst others Castle of Jehay-Bodegnée, Castle of Presles). Stylistically these constructions often contained renaissance elements with a neoclassical stress. In his interior designs he also used elements from the Louis XV and Louis XVI styles.
In 1846 Balat settled in Brussels. His was introduced to the Belgian royal family after he was noticed for his design of a temporary festive decoration for the Salle de la Madeleine (Magdalenamarkt) where the royal family had been present (1848). In 1851 and 1856 he created several temporary festive decorations for the monarchy. In 1852 he was appointed as the architect of the Duke of Brabant, the later king Leopold II of Belgium. In 1856 he constructed the town palace (Hôtel) of the Marquess of Assche (Asse) in the newly planned district called 'Quartier Léopold'. It was noticed for its austere classical Neo-Renaissance facade inspired by Michelangelo's Palazzo Farnese in Rome. His rather sober classical approach was rare at that time when excessively decorated facades and interiors were much preferred . During his career he built a large number of private residences. Most of them were demolished during the 20th century.
After Leopold II ascended the throne in 1865, Balat became his principal architect. Balat made a number of designs for the sumptuous reception rooms of the Royal Palace of Belgium such as the 'Throne Room', 'The Grand Staircase', and the 'Grande Galerie'. For this realisations he greatly followed the example of the French Royal residences. Balat realised the facade on the back of the palace and the facades of the courtyards. His design for the principal facade of the palace is deeply influenced by the work of the French architect Ange-Jacques Gabriel. It was not executed during Balat's lifetime and later completed in an altered form by Henri Maquet.  Balat died at Ixelles, aged 76, and was buried in the Laeken Cemetery.
Born
May, 15, 1818
Gochenée, Belgium
Died
September, 16, 1895
Ixelles, Belgium
Cemetery
Laeken Cemetery
Laeken, Brussels
Belgium
16941 profile views