Alfred Blalock
(Alfred Blalock)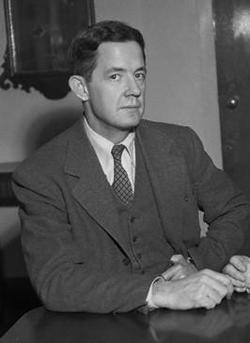 Born in Culloden, Georgia, Blalock entered Georgia Military Academy, a preparatory school for the University of Georgia, at the age of 14. Blalock attended Georgia as an undergraduate and was a member of the Delta Chapter of the Sigma Chi fraternity. After graduating with an A.B. in 1918 at the age of 19, Blalock entered the Johns Hopkins School of Medicine, where he roomed with and began a lifetime friendship with Tinsley Harrison. Blalock earned his medical degree at Johns Hopkins in 1922. Hoping to gain appointment to a surgical residency at Johns Hopkins due to his admiration of William S. Halsted, Blalock remained in Baltimore for the next three years, completing an internship in urology, one year of an assistant residency on the general surgical service (his contract was not renewed), and an externship in ENT.
In July 1925, Blalock joined Harrison at Vanderbilt University in Nashville to serve as first chief resident in surgery under Barney Brooks, who was Vanderbilt University Hospital's first Professor of Surgery and Chief of the Surgical Service. Blalock was active in teaching third- and fourth-year medical students and, as a result, he was put in charge of the surgical research laboratory. While at Vanderbilt, he worked on the nature and treatment of hemorrhagic and traumatic shock. Experimenting on dogs, he found that surgical shock resulted from the loss of blood, and he encouraged the use of blood plasma or whole blood products as treatment following the onset of shock. This research resulted in the saving of many lives during World War II. Unfortunately, Blalock had frequent bouts of tuberculosis during his Vanderbilt years.
When Blalock was offered Chief of Surgery at Johns Hopkins Hospital in 1941, he requested that his assistant Vivien Thomas come along with him. They formed a very close relationship that would last more than thirty years. Together, they developed a shunt technique to bypass coarctation of the aorta. While they were working on this, Helen Taussig presented him with the problem of the blue baby syndrome – a congenital heart defect known as Tetralogy of Fallot which results in inadequate oxygenation of the blood. The shunt and operation they developed not only directly saved thousands of lives, it marked the start of the modern era of cardiac surgery, as it was the first successful surgery on the human heart of the modern medical era. As of 2004, doctors in the United States alone perform over 1.75 million heart operations annually.  Blalock retired from Hopkins in 1964, just two and a half months before his death from metastatic urothelial carcinoma of the ureter.
He published more than 200 articles and a book, Principles of Surgery, Shock and Other Problems, and delivered more than 40 honorary lectures. He was awarded honorary degrees from nine universities and belonged to 43 medical societies in the United States and other countries.  He married Mary Chambers O'Bryan in 1930; they had three children. Following her death he married Alice Waters in 1959.  In 1954 he received (with Robert Gross and Helen Taussig) the Albert Lasker Clinical Medical Research Award "For distinguished contributions to cardiovascular surgery and knowledge."  The Alfred Blalock Clinical Sciences Building at Hopkins Hospital is named for him.
Born
April, 05, 1899
USA
Culloden, Georgia
Died
September, 15, 1964
USA
Baltimore, Maryland
Cemetery
Druid Ridge Cemetery
Pikesville, Maryland
USA
16842 profile views