Adelaide of Saxe-Meiningen
(Adelaide of Saxe-Meiningen )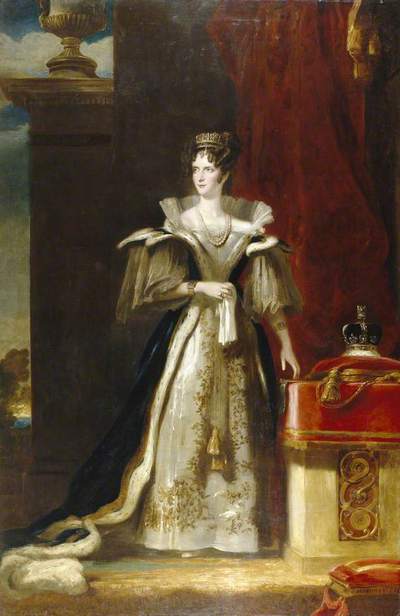 Adelaide was born on 13 August 1792 at Meiningen, Thuringia, Germany. Her father was George I, Duke of Saxe-Meiningen; and her mother was Luise Eleonore, daughter of Prince Christian of Hohenlohe-Langenburg. She was titled Princess Adelaide of Saxe-Meiningen, Duchess in Saxony with the style Serene Highness from her birth until the Congress of Vienna (1814–15), when the entire House of Wettin was raised to the style of Highness.  Saxe-Meiningen was a small state, covering about 423 square miles (1,100 km2). It was the most liberal German state and, unlike its neighbours, permitted a free press and criticism of the ruler.
By the end of 1811, King George III was mad and, although still King in name, his heir-apparent and eldest son George was Prince Regent. On 6 November 1817 the Prince Regent's only daughter, Princess Charlotte, wife of Prince Leopold of Saxe-Coburg-Saalfeld (later King Leopold I of the Belgians), died in childbirth. Princess Charlotte was second in line to the throne: had she outlived her father and grandfather, she would have become Queen. With her death, the King was left with twelve children and no legitimate grandchildren. The Prince Regent was estranged from his wife, who was forty-nine years-old, thus there was little likelihood that he would have any further legitimate children. To secure the line of succession, Prince William, Duke of Clarence, and the other sons of George III sought quick marriages with the intent of producing offspring who could inherit the throne. William already had ten illegitimate children by the popular actress Dorothea Jordan, but they were obviously debarred from the succession.
Considerable allowances were likely to be voted by Parliament to any Royal Duke who married, and this acted as a further incentive for William to marry. Adelaide was a princess from an unimportant German state, but William had a limited choice of available princesses and, after deals with other candidates fell through, a marriage to Adelaide was arranged. The allowance proposed was slashed by Parliament, and the outraged Duke considered calling off the marriage. However, Adelaide seemed the ideal candidate: amiable, home-loving, and willing to accept William's illegitimate children as part of the family. The arrangement was settled and William wrote to his eldest son, "She is doomed, poor dear innocent young creature, to be my wife."
Adelaide married William in a double wedding with William's brother, Prince Edward, Duke of Kent, and his bride Victoria, Dowager Princess of Leiningen, on 11 July 1818, at Kew Palace in Surrey, England. They had only met for the first time about a week earlier, on 4 July at Grillon's Hotel in Bond Street. Neither William nor Adelaide had been married before, and William was twenty-seven years her senior.  Despite these unromantic circumstances, the couple settled amicably in Hanover (where the cost of living was much lower than in England), and by all accounts were devoted to each other throughout their marriage. Adelaide improved William's behaviour; he drank less, swore less and became more tactful. Observers thought them parsimonious, and their lifestyle simple, even boring. William eventually accepted the reduced increase in his allowance voted by Parliament.
On the Continent, Adelaide became pregnant, but in her seventh month of pregnancy, she caught pleurisy and gave birth prematurely during the illness. Her daughter, Charlotte, lived only a few hours. Another pregnancy in the same year caused William to move the household to England so his future heir would be born on English soil, yet Adelaide miscarried at Calais during the journey (5 September 1819). She became pregnant again, and a second daughter, Elizabeth, was born in December 1820. Elizabeth seemed strong but died aged only four months of "inflammation in the Bowels". Ultimately, William and Adelaide had no surviving children. Twin boys were stillborn on 8 April 1822, and a possible brief pregnancy may have occurred within the same year.
Princess Victoria of Kent came to be acknowledged as William's heir presumptive, as Adelaide had no further pregnancies. While there were rumours of pregnancies well into William's reign (dismissed by the King as "damned stuff"), they seem to have been without basis.
At the time of their marriage, William was not heir-presumptive to the throne, but became so when his brother Frederick, Duke of York, died childless in 1827. Given the small likelihood of his older brothers producing heirs, and William's relative youth and good health, it had long been considered extremely likely that he would become King in due course. In 1830, on the death of his elder brother, George IV, William acceded to the throne. One of King William's first acts was to confer the Rangership of Bushy Park (for thirty-three years held by himself) on Queen Adelaide. This act allowed Adelaide to remain at Bushy House for her lifetime. The King and Adelaide were crowned on 8 September 1831 at Westminster Abbey. Adelaide was deeply religious and took the service very seriously. William despised the ceremony, and acted throughout, it is presumed deliberately, as if he was "a character in a comic opera", making a mockery of what he thought to be a ridiculous charade. Adelaide alone among those attending received any praise for her "dignity, repose and characteristic grace".
Adelaide was beloved by the British people for her piety, modesty, charity, and her tragic childbirth history. A large portion of her household income was given to charitable causes. She also treated the young Princess Victoria of Kent (William's heir presumptive and later Queen Victoria) with kindness, despite her own inability to produce an heir and the open hostility between William and Victoria's mother, the Dowager Duchess of Kent. She refused to have women of questionable virtue attend her Court. Wrote Clerk of the Privy Council Charles Greville of her, "The Queen is a prude and refuses to have the ladies come décolletées to her parties. George the 4th, who liked ample expanses of that kind, would not let them be covered."
Adelaide attempted, perhaps unsuccessfully, to influence the King politically. She never spoke about politics in public; however, she was strongly Tory. It is unclear how much of William's attitudes during the passage of the Reform Act 1832 were due to her influence. The Press, the public and courtiers assumed that she was agitating behind the scenes against reform, but she was careful to be non-committal in public. As a result of her partiality, she became unpopular with reformers. Unbelievable rumours circulated that she was having an affair with her Lord Chamberlain, the Tory Lord Howe, but almost everyone at court knew that Adelaide was inflexibly pious and was always faithful to her husband. The Whig Prime Minister, Lord Grey, had Lord Howe removed from Adelaide's household. Attempts to reinstate him after the Reform Bill had passed were not successful, as Lord Grey and Lord Howe could not come to an agreement as to how independent Howe could be of the government.
In October 1834 a great fire destroyed much of the Palace of Westminster, which Adelaide considered divine retribution for the vagaries of reform. When the Whig ministry of Lord Melbourne was dismissed by the King, The Times newspaper blamed the Queen's influence, though she seems to have had very little to do with it. Influenced by her similarly reactionary brother-in-law, the Duke of Cumberland, she did write to the King against reform of the Church of Ireland.
Both William and Adelaide were fond of their niece, Princess Victoria of Kent, and wanted her to be closer to them. Their efforts were frustrated by Victoria's mother, the Dowager Duchess of Kent. The Duchess refused to acknowledge Adelaide's precedence, left letters from Adelaide unanswered and commandeered space in the royal stables and apartments for her own use. The King, aggrieved at what he took to be disrespect from the Duchess to his wife, bluntly announced in the presence of Adelaide, the Duchess, Victoria and many guests, that the Duchess was "incompetent to act with propriety", that he had been "grossly and continually insulted by that person", and that he hoped to have the satisfaction of living beyond Victoria's age of majority, so that the Duchess of Kent would never be Regent. Everyone was aghast at the vehemence of the speech, and all three ladies were deeply upset. The breach between the Duchess and the King and Queen was never fully healed, but Victoria always viewed both of them with kindness.
Queen Adelaide was dangerously ill in April 1837, at around the same time that she was present at her sister's deathbed in Meiningen, but she recovered. By June it became evident that the King was fatally ill himself. Adelaide stayed beside William's deathbed devotedly, not going to bed herself for more than ten days. William IV died from heart failure in the early hours of the morning of 20 June 1837 at Windsor Castle, where he was buried. The first queen dowager in over a century (Charles II's widow, Catherine of Braganza, had died in 1705, and Mary of Modena, wife of the deposed James II, died in 1718), Adelaide survived her husband by twelve years.
Queen Adelaide had been given the use of Marlborough House, Pall Mall in 1831, and held it until her death in 1849. She also had the use of Bushey House, Bushy Park at Hampton Court. After her husband's death, Queen Adelaide became a tenant of William Ward and took up residence at the latter's newly purchased house, Witley Court in Worcestershire, from 1842 until 1846. She was a frequent visitor to Gopsall Hall (now part of the crown estate) in Leicestershire and many of the locals were very fond of her. On one occasion, when meeting the people in Measham, the public were told to approach her by horse and carriage. One man was so desperate to meet Queen Adelaide that he approached her in a bathtub pulled by a mule. The Queen greeted him nevertheless.
Queen Adelaide's last public appearance was to lay the foundation stone of the church of St John the Evangelist, Great Stanmore. She gave the font and when the church was completed after her death, the east window was dedicated to her memory.
She died during the reign of her niece Queen Victoria on 2 December 1849 of natural causes at Bentley Priory in Middlesex and was buried at St. George's Chapel, Windsor. She wrote instructions for her funeral during an illness in 1841 at Sudbury Hall: "I die in all humility", she wrote, "we are alike before the throne of God, and I request therefore that my mortal remains be conveyed to the grave without pomp or state…to have as private and quiet a funeral as possible. I particularly desire not to be laid out in state…I die in peace and wish to be carried to the fount in peace, and free from the vanities and pomp of this world."
Born
August, 13, 1792
Schmalkalden-Meininger Landkreis, Thüringen, Germany
Died
December, 02, 1849
London, England
Cemetery
St George's Chapel
Windsor, Berkshire, England
16108 profile views