Zeffie Tilbury
(Zeffie Agnes Lydia Tilbury)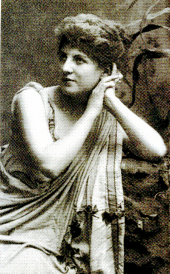 Zeffie Tilbury was born on November 20, 1863 in London, England as Zeffie Agnes Lydia Tilbury. She was an actress, known for The Grapes of Wrath (1940), Mystery of Edwin Drood (1935) and Camille (1921). She was married to L. E. Woodthorpe and Arthur Frederick Lewis. She died on July 24, 1950 in Los Angeles, California, USA.
Almost from the beginning of her film career, she was typecast in grandmotherly roles, both sweet and diabolical.
She was the daughter of Lydia Thompson, one of the giants of 19th century British theater, who brought her troupe of "British Blondes" to New York in 1868.
Concealed her near-blindness from the public during her later film career in the 1930's.
On the Broadway stage from 1904.
Her mother, Lydia Thompson, was an actress and theatrical producer.
Father: John Christian Tilbury; Mother: Lydia Thompson (actress).
Born
November, 20, 1863
London, England
Died
July, 24, 1950
Los Angeles, California
Cause of Death
Cemetery
Chapel Of The Pines Crematory
California
2967 profile views