Hattie McDaniel
(Hattie McDaniel)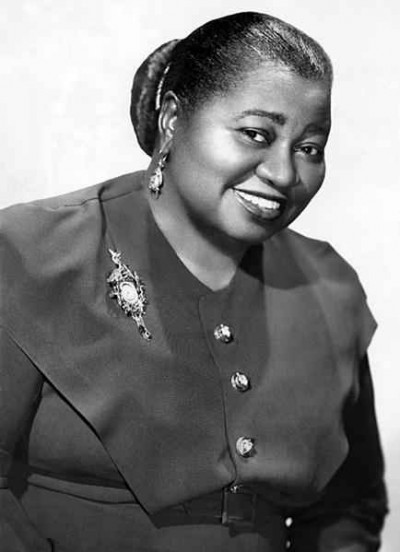 Hattie McDaniel was born June 10, 1895, in Wichita, Kansas, to former slaves. She was the youngest of 13 children. Her father, Henry McDaniel, fought in the Civil War with the 122nd USCT and her mother, Susan Holbert, was a singer of religious music. In 1900, the family moved to Colorado, living first in Fort Collins and then in Denver, where Hattie graduated from Denver East High School. Her brother, Sam McDaniel (1886–1962), played the butler in the 1948 Three Stooges' short film Heavenly Daze. Another acting sibling of Hattie and Sam was actor Etta McDaniel.
In addition to performing, Hattie was also a songwriter, a skill she honed while working with her brother's minstrel show. After the death of her brother Otis in 1916, the troupe began to lose money, and it wasn't until 1920 that Hattie got her next big break. During 1920–25, she appeared with Professor George Morrison's Melody Hounds, a touring black ensemble, and in the mid-1920s she embarked on a radio career, singing with the Melody Hounds on station KOA in Denver. In 1926–1929 she also recorded many of her songs on Okeh Records and Paramount Records in Chicago. In all, McDaniel recorded seven sessions; one in the summer of 1926 on the rare Kansas City label Meritt; four sessions in Chicago for Okeh (late 1926-late 1927) – of the ten sides, only four were issued, and two sessions in Chicago for Paramount (both in March 1929).  When the stock market crashed in 1929, the only work McDaniel could find was as a wash-room attendant and waitress at Club Madrid in Milwaukee. Despite the owner's reluctance to let her perform, McDaniel was eventually allowed to take the stage and she soon became a regular.
In 1931, McDaniel made her way to Los Angeles to join her brother Sam and sisters Etta and Orlena. When she could not get film work, she took jobs as a maid or cook. Sam was working on KNX radio program called The Optimistic Do-Nut Hour, and he was able to get his sister a spot. She appeared on radio as "Hi-Hat Hattie", a bossy maid who often "forgets her place". Her show became extremely popular, but her salary was so low that she had to continue working as a maid.  Her first film appearance was in The Golden West (1932) as a maid; her second was in the highly successful Mae West film I'm No Angel (1933), as one of the black maids West camped it up with backstage. She received several other uncredited film roles in the early 1930s, often singing in choruses.  In 1934, McDaniel joined the Screen Actors Guild (SAG). She began to attract attention and finally landed larger film roles that began to win her screen credits. Fox Film Corporation put her under contract to appear in The Little Colonel (1935), with Shirley Temple, Bill "Bojangles" Robinson and Lionel Barrymore.
Judge Priest (1934), directed by John Ford and starring Will Rogers, was the first film in which she played a major role. She had a leading part in the film and demonstrated her singing talent, including a duet with Rogers. McDaniel and Rogers became friends during filming.  In 1935 McDaniel had prominent roles with her performances as a slovenly maid in RKO Pictures' Alice Adams, a comic part as Jean Harlow's maid/traveling companion in MGM's China Seas, the latter her first film with Clark Gable, and as Isabella the maid in Murder by Television with Béla Lugosi. She also appeared in the 1938 film, Vivacious Lady, starring James Stewart and Ginger Rogers.  McDaniel had a featured role as Queenie in Universal Pictures's 1936 version of Show Boat, starring Irene Dunne, and sang a verse of Can't Help Lovin' Dat Man with Dunne, Helen Morgan, Paul Robeson, and the black chorus. Later in the film she and Robeson sang I Still Suits Me, a song written especially by Kern and Hammerstein for the film.
After Show Boat she had major roles in MGM's Saratoga (1937), starring Jean Harlow and Clark Gable, The Shopworn Angel (1938) with Margaret Sullavan, and The Mad Miss Manton (1938), starring Barbara Stanwyck and Henry Fonda. She had a very minor role in the Carole Lombard/Frederic March vehicle, Nothing Sacred (1937), in which she appeared as the wife of a shoeshine man (Troy Brown), masquerading as a sultan.  McDaniel was befriended by many of Hollywood's most popular stars, including Joan Crawford, Tallulah Bankhead, Bette Davis, Shirley Temple, Henry Fonda, Ronald Reagan, Olivia de Havilland, and Clark Gable. She would star with de Havilland and Gable in Gone with the Wind (1939).  It was around this time that she began to be criticized by members of the black community for the roles she chose to accept and for her decision to pursue roles aggressively rather than rock the Hollywood boat. For example, in The Little Colonel (1935) she played one of the black servants longing to return to the Old South. But McDaniel's portrayal of Malena in RKO Pictures's Alice Adams angered white Southern audiences; she had stolen several scenes away from the film's white star, Katharine Hepburn. McDaniel would ultimately become best known for playing a sassy and opinionated maid.
The competition to play Mammy in Gone with the Wind (1939) had been almost as stiff as that for Scarlett O'Hara. Eleanor Roosevelt wrote to film producer David O. Selznick to ask that her own maid, Elizabeth McDuffie, be given the part. McDaniel did not think she would be chosen because she had earned her reputation as a comic actress. One source claims that Clark Gable recommended the role go to McDaniel; in any case when she went to her audition dressed in an authentic maid's uniform, she won the part.  Upon hearing of the planned film adaptation, the NAACP fought hard to require the film's producer and director to delete racial epithets from it (in particular the offensive slur "nigger") and to alter scenes that might be incendiary and that, in their view, were historically inaccurate. Of particular concern was a scene from the novel in which black men attack Scarlett O'Hara, after which the Ku Klux Klan, with its long history of provoking terror on black communities, is presented as a savior. Throughout the South, black men were being lynched based upon false allegations they had harmed white women. That attack scene was altered, and some offensive language was modified. But another epithet, "darkie", remained in the film, and the film's message with respect to slavery remained essentially the same. Consistent with the book, the film's screenplay also referred to poor whites as "white trash," and it ascribed these words equally to characters black and white.
The Loew's Grand Theater on Peachtree Street in Atlanta, Georgia, was selected by the studio as the site for the premiere of Gone with the Wind, Friday, December 15, 1939. As the date of the premiere approached, all the black actors were advised they were barred from attending, excluded from being in the souvenir program, and banned from appearing in advertisements for the film in the South. Studio head David Selznick asked that Hattie McDaniel be permitted to attend, but MGM advised him not to because of Georgia's segregation laws. Clark Gable threatened to boycott the Atlanta premiere unless McDaniel was allowed to attend, but McDaniel convinced him to attend anyway.  Most of Atlanta's 300,000 citizens crowded the route of the seven-mile motorcade that carried the film's other stars and executives from the airport to the Georgian Terrace Hotel, where they stayed.  While Jim Crow laws kept McDaniel from the Atlanta premiere, she did attend the film's Hollywood debut on December 28, 1939. Upon Selznick's insistence, her picture was also featured prominently in the program.
It was McDaniel's role as the house slave who repeatedly scolds her owner's daughter, Scarlett O'Hara (Vivien Leigh), and scoffs at Rhett Butler (Clark Gable), that won McDaniel the 1939 Academy Award for Best Supporting Actress, making her the first black American to win an Oscar. She had also been the first black American to be nominated. "I loved Mammy," McDaniel said when speaking to the white press about the character. "I think I understood her because my own grandmother worked on a plantation not unlike Tara." Her role in Gone with the Wind had alarmed some whites in the Southern audience; there were complaints that in the film she had been too "familiar" with her white owners. But at least one author pointed out that McDaniel's character does not significantly depart from Mammy's persona in Margaret Mitchell's book, and that in both the film and the book the much younger Scarlett speaks to Mammy in ways that would be deemed inappropriate for a Southern teen of that era to speak to a much older white person, and that neither the book nor the film hint of the existence of Mammy's own children (dead or alive), her own family (dead or alive), a real name, or her desires to have anything other than a life at Tara, serving on a slave plantation. Moreover, while Mammy scolds the younger Scarlett, Mammy never crosses the more senior white woman in the household, Mrs. O'Hara. Some critics felt that McDaniel not only accepted the roles but in her press comments acquiesced in Hollywood's stereotypes, providing fuel for critics of those who were fighting for black civil rights. Later, when McDaniel tried to take her "Mammy" character on a road show, black audiences did not prove receptive.  While many blacks were happy over McDaniel's personal victory, they also viewed it as bittersweet. They believed Gone With the Wind celebrated the slave system and condemned the forces that destroyed it. For them, the unique accolade McDaniel had won suggested that only those who did not protest Hollywood's systemic use of racial stereotypes could find work and success there.
In the 1942 Warner Bros. film In This Our Life, starring Bette Davis and directed by John Huston, McDaniel once again played a domestic, but one who confronts racial issues, as her law student son is wrongly accused of manslaughter.  The following year, McDaniel was in Warner Bros' Thank Your Lucky Stars with Humphrey Bogart and Bette Davis. In its review of the film, Time wrote that McDaniel was comic relief in an otherwise "grim study," writing, "…Hattie McDaniel, whose bubbling, blaring good humor more than redeems the roaring bad taste of a Harlem number called Ice Cold Katie…."  Hattie McDaniel continued to play maids during the war years in Warner Bros' The Male Animal (1942) and United Artists' Since You Went Away (1944), but her feistiness was toned down to reflect the era's somber news.  She also played the maid in Song of the South.
She made her last film appearances in Mickey (1948) and Family Honeymoon (1949). She remained active on radio and television in her final years, becoming the first black American to star in her own radio show with the comedy series Beulah. She also starred in the ABC television version of the show, replacing Ethel Waters after the first season. (Waters had apparently expressed concerns over stereotypes in the role.) Beulah was a hit, however, and earned McDaniel $2,000 a week. But the show was controversial. In 1951, the United States Army ceased broadcasting The Beulah Show in Asia because troops complained that the show perpetuated negative stereotypes of black men as shiftless and lazy and interfered with the ability of black troops to perform their mission. After filming a handful of episodes, however, McDaniel learned she had breast cancer. By the spring of 1952, she was too ill to work and was replaced by Louise Beavers.
McDaniel died at age 57 on October 26, 1952, of breast cancer in the hospital on the grounds of the Motion Picture House in Woodland Hills. McDaniel was survived by her brother, Sam McDaniel. Thousands of mourners turned out to celebrate her life and achievements. In her will, McDaniel wrote: "I desire a white casket and a white shroud; white gardenias in my hair and in my hands, together with a white gardenia blanket and a pillow of red roses. I also wish to be buried in the Hollywood Cemetery." The Hollywood Cemetery on Santa Monica Boulevard in Hollywood is the resting place of movie stars such as Douglas Fairbanks, Rudolph Valentino, and others. Hollywood Cemetery refused to allow her to be buried there, because it, too, practiced racial segregation and would not accept for burial the bodies of black people. Her second choice was Angelus-Rosedale Cemetery, where she lies today.
In 1999, Tyler Cassidy, the new owner of the Hollywood Cemetery that had renamed it Hollywood Forever Cemetery, offered to have McDaniel re-interred at his cemetery. Her family did not wish to disturb her remains and declined the offer. Instead, Hollywood Forever Cemetery built a large cenotaph on the lawn overlooking its lake. It is one of Hollywood's most popular tourist attractions.  McDaniel's last will and testament of December 1951 awarded her Oscar to Howard University, where she had been honored by the students with a luncheon after she had won her Oscar. At the time of her death, McDaniel would have had few options. Very few white institutions in that day preserved black history. Historically, black colleges had been where such artifacts were placed. Despite evidence McDaniel had earned an excellent income as an actor, her final estate was less than $10,000. The IRS claimed the estate owed more than $11,000 in taxes. In the end, the probate court ordered all of her property, including her Oscar, sold to pay off creditors. Years later, the Oscar turned up where McDaniel wanted it to be: Howard University, where, according to reports, it was displayed in a glass case in the University's drama department.
Born
June, 10, 1895
USA
Wichita, Kansas
Died
October, 26, 1952
USA
Woodland Hills, Los Angeles, California
Cause of Death
Cemetery
Angelus Rosedale Cemetery
Los Angeles, California
USA
15125 profile views